The video of last Saturday's iSangha talk by Bhikkhu Akaliko has been uploaded to YouTube—with many thanks to @Aminah: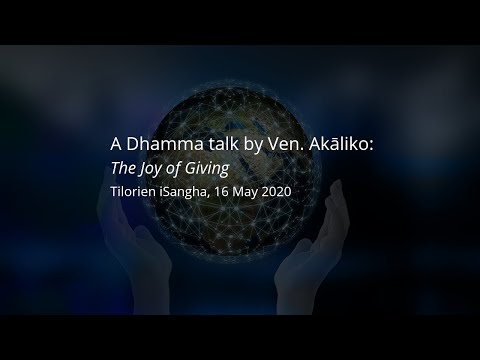 In conversation with Bhante U Agga at iSangha on 30 May: Lessons from the Jungle – The Freedom of a Simple Life
You are very warmly invited to join Bhante U Agga in conversation with Ayya Anopama at Tilorien's iSangha (iSangha – Tilorien Monastery) on Saturday 30 May from 9.30-11am CEST (see here for other time zones). The session will also include meditation and time for Q&A.
The Covid-19 pandemic has faced many of us with major restrictions in our daily lives which, for some, has led to unease and distress. At the same time the situation has also allowed us to step back and re-evaluate our frantic, consumption-driven life styles full of distraction. We have had an opportunity to re-discover the beauties of a simple life and how gestures of kindness and generosity can brighten our own and others' lives.
Banthe U Agga and Ayya Anopama will explore the freedom that can come from the renunciation, simplification, and kindness encouraged by the Buddha and how the life style of a forest monastic can inspire us all.
Bhikkhu Agga (formerly known as Tjeerd Aukes, born in the Netherlands) started meditating in 2001 when he attended his first 10-day Vipassana retreat. Since then he has been practising regularly.
In 2006 he travelled to India and Myanmar to deepen his meditation practice. He ordained as a Buddhist monk in 2011 in Myanmar and was given the name U Aggawamsa, shortened to U Agga. Since then he's been staying in different places and settings across Myanmar, living a simple and solitaire life, mostly in forests and jungles, together with other monks, nuns and lay practioners or just by himself in a wooden hut.
In 2016 and 2019 he visited Europe for two months. He currently resides in a Forest Monastery in the North-East of Thailand.
Here is a boost so that you can keep updating us on the iSangha.

Can I clarify whether we need a new Zoom ID for each talk, or if we've asked for access once we don't need to do that every time?
Yes, this is how it works. But please don't share the Zoom ID with others. Everyone should ask for access once. This is just to protect from being attacked.
Thanks @sabbamitta! It's a curious side-effect of the lockdown that it has given some of us better access to hearing the Dhamma.
Ayya Anandabodhi's talk was really lovely.
Venerable Vimala speaks at iSangha on 5th June – A Path with a Heart
You are very warmly invited to join Venerable Vimala, Tilorien Monastery's spiritual lead, at Tilorien's iSangha (iSangha – Tilorien Monastery) for a Dhamma Talk, meditation and 'Q&A' on Friday 5th June 7pm CEST (see here for other time zones ).
Para mi solo recorrer los caminos que tienen corazon,
cualquier camino que tenga corazon.
Por ahi yo recorro,
y la unica prueba que vale es atravesar todo su largo.
Y por ahi yo recorro
mirando, mirando, sin aliento.

For me there is only travelling on paths that have heart,
on any path that may have heart.
There I travel,
and the only worthwhile challenge is to traverse its full length.
And there I travel
looking, looking, breathlessly.
Venerable Vimala has been busy setting up and building Tilorien Monastery tirelessly over the past four years. For the past two months she had the opportunity for a break in solitary retreat. We are very much looking forward to welcome her back.
To find out more about Venerable Vimala, visit: Ayya Vimala – Samita ASBL
Please review above post, it has been edited with more details.
Has this talk been recorded as well? I couldn't find it on the YouTube channel. Thanks a lot! I am looking forward to watching it.
No, the talk by U Agga hasn't been recorded.
Ayya Santacitta speaks at iSangha on 12 June – The Wisdom of Seeing Arising and Ceasing
You are very warmly invited to join Ayya Santacitta at the Tilorien iSangha (iSangha – Tilorien Monastery) on Friday 12 June at 7pm CEST (see here for other time zones) for a Dhamma Talk, meditation and Q&A.
Ayya Santacitta will be sharing poems from The First Free Women – Poems of the Early Buddhist nuns and expound on the wisdom of impermanence: Better it is to live one day seeing the rise and fall of things than to live a hundred years without ever seeing the rise and fall of things. (Dhammapada 113, translation by Bhikkhu Buddharakkhita)
Santacitta Bhikkhuni was born in Austria and did her graduate studies in Cultural Anthropology, focusing on dance, theatre and ritual. She also worked in avant-garde dance theatre as a performer and costume designer. In 1988 she met Ajahn Buddhadasa in southern Thailand, who sparked her interest in Buddhist monastic life. She has trained as a nun in both the East and West since 1993, primarily in the lineage of Ajahn Chah, and has practiced meditation for over 30 years. Since 2002, she has also received teachings in the lineage of Dilgo Khyentse Rinpoche.
Santacitta Bhikkhuni co-founded Aloka Vihara Forest Monastery in 2009 and received Bhikkhuni Ordination in 2011. Since moving to the U.S., she has also greatly benefited from Bhikkhu Analayo's teachings on Early Buddhism and from the guidance of Khenmo Konchog Nyima Drolma. She is particularly interested in creating sanctuary close to nature, living in community and bringing wisdom traditions to the environmental movement.
Thank you for bringing this collection of poetry to my attention! The poems are beautiful!
Five Precept Ceremony & meditation Saturday 20th June 18.00h – 19.00h CEST
In Buddhist practice, one way to establish virtue and integrity is to formally repeat and undertake The Five Precepts. This can be done regularly, as a reminder and a recommitment of your intentions, you can do it on your own or you can do it with a teacher.
Ven. Vimala will offer the Five Precepts to those who wish to make a conscious commitment to virtue and nonharming or those who wish to renew their vows. You can find the text for this ceremony in our chanting book on page 69 (http://tilorien.org/chantingbooks/TilorienChantingBook.pdf).
This ceremony will be followed by the chanting of the Metta Sutta (page 40) and 45 minutes of guided meditation.
For those who wish to take the 8-precepts to keep on the Uposatha days or for life, this is possible every Uposatha day at 6.45am after the morning groupsitting.
Please find details for Tilorien iSangha here (iSangha – Tilorien Monastery)
Worldwide meditation dedicated to George Floyd
On Saturday 13th June, Sharon Salzberg will lead a 30 minute worldwide meditation dedicated to George Floyd and all victims of racism worldwide.
The iSangha will join this meditation at 18.00 CEST and will continue with a silent meditation to 19.00 CEST.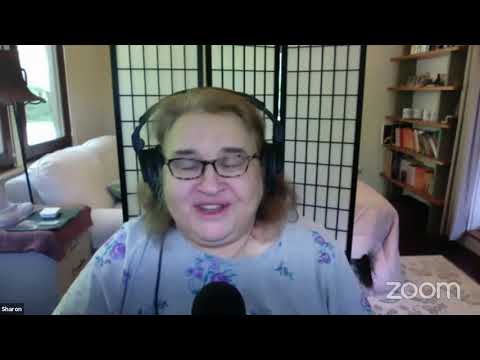 If you are new to the iSangha, please see our iSangha page to get a link: iSangha – Tilorien Monastery.
You can also join Sharon's meditation only on YouTube: https://youtu.be/EBdm38ocqj4
Venerable Dr. Pannavati Bhikkhuni speaks at iSangha on 19 June
– The Buddhist perspective on the Black Lives Matter Protests
You are very warmly invited to join Venerable Dr. Pannavati Bhikkhuni at the Tilorien iSangha (iSangha – Tilorien Monastery) on Friday 19 June at 7pm CEST for a Dhamma Talk, meditation and Q&A.
Venerable Pannavati will speak about the Buddhist perspective on the Black Lives Matter Protests that we have seen on 3 continents in the last weeks.
Thousands of people gathered in cities and towns in the last weeks to protest police brutality and racial injustice. In response to the ongoing unrest, Buddhist teachers and sanghas have issued statements online condemning the violence and calling on sangha members to reevaluate their relationship to racism. It is our privilege that Ven. Pannavati, a very experienced Buddhist monastic, teacher and activist, has agreed to give a talk at our iSangha about this important topic.
Venerable Dr. Pannavati is the Co-founder and Co-spiritual Director of HeartWood Refuge in North Carolina, USA.
Ensuring the community's sustainability, longevity and continuity of vision and mission. She is also President of Treasure Human Life Foundation. Ordained in the Theravada, Chan, and Mahayana traditions with Vajrayana empowerments and transmission from Roshi Bernie Glassman of Zen Peacemakers, Pannavati was formerly a Christian pastor, and co-founder and co-Abbot of Embracing-Simplicity Hermitage and meditation center.
An international teacher who advocates on behalf of disempowered women and youth globally, and insists on equality and respect in Buddhist life for both female monastics and lay sangha — she is both contemplative and empowered for compassionate service. She was a 2008 recipient of the Outstanding Buddhist Women's Award and currently serves as Vice President of the US Chapter of the Global Buddhist Association. Although Ven. Pannavati travels extensively, she offers Dharma Talks and Meditation at HW on a regular basis.
If you want to donate to help Venerable Pannavati with her work, please see https://www.heartwoodrefuge.org/donate/ for more information.
Thank you for hosting! It was a great talk!